I have been seeing Dr. Rubin for about two years and I can't begin to tell you the difference that he has made. I was…read more→
LASER THERAPY
If you are considering a non-surgical, non-drug approach to treating your pain laser therapy can help. A recent review of over 2,900 articles in medical journals indicates that many acute and chronic conditions may be improved or eliminated through the use of high power laser therapy.
Research shows tissues targeted by High Power Laser Therapy are stimulated to increase production of a cellular enzyme (Cytochrome C Oxidase) that is critical to the production of ATP. ATP is the currency of chemical energy in living cells.  With increased ATP production and thus greater cellular energy a host of biological responses are facilitated, such as mediation of pain, reduction of inflammation, reduced scar tissue, increased cell metabolism, improved vascular activity, and accelerated healing.
You may be a candidate for Class IV high power laser therapy if you have any of the following conditions: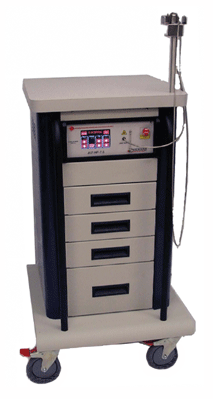 Arthritis

Achy/Stiff Joints

Neck & Back Injuries

Shoulder Pain

Tennis Elbow

Muscle & Ligament Tears

Knee & Hip Pain

Trigger Points & Muscle Spasms

Sprains/Strains

Carpal Tunnel Syndrome

Rotator Cuff Tear

Sciatica (Leg Pain)

Arch Pain
Pain & Healing Following Surgery

Herniated Discs

Foot/Ankle Arthritis

Plantar Fasciitis

Morton's Neuroma

Ankle Sprains

Achilles Tendinitis

Shin Splints

Poor Circulation

Stress Fractures

Bunion Pain

Nerve Pain

Non-healing Wounds
Frequently Asked Questions
What is High Power Laser Therapy (HPLT)?
HPLT is a painless, safe, side effect free treatment for the relief of Neuro-musculoskeletal pain. There are many studies that show the effectiveness of laser therapy to promote rapid healing of a wound or injury. HPLT is a technological advancement to the older Low Level Laser Therapy or Cold Laser Therapy as it has the ability to deliver vastly larger amounts of healing light energy to much greater depths of penetration as well as being able to treat a vastly larger surface area than its predecessors.
How long has laser therapy been utilized in pain management
Laser therapy has been used in Europe for over 30 years.
What type of medical conditions respond to Class IV high power laser therapy?
At the present time, HPLT is used primarily for the treatment of Neuro-musculoskeletal conditions. Clinicians in the field are also experiencing dramatic results for many types of wound healing.
Are their any safety risks associated with Class IV laser therapy?
The Avicenna high power laser is extremely safe. However, it is not used over the eyes due to the sensitivity of the retina, therefore, all patients wear protective safety glasses during the treatment.
Is their any pain or side effects associated with Class IV laser therapy?
The Avicenna high power laser is painless and has no side effects. It is completely safe. During treatment, the patient experiences a gentle warming effect, and at many times a profound feeling of relaxation.