I have been seeing Dr. Rubin for about two years and I can't begin to tell you the difference that he has made. I was…read more→
What kind of pain does MILD treat?
Mild treats pain radiating down the legs caused by lumbar spinal stenosis
How does it work?
The mild procedure is a minimally invasive (through a needle) decompression of spinal stenosis.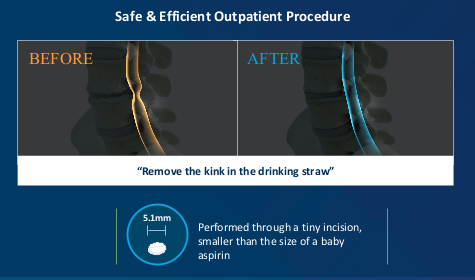 What is Lumbar Spinal Stenosis (LSS)?
LSS is a condition where the spinal canal narrows and compresses the spinal cord nerves in your lower back. As we age, the natural wear and tear on our spine can lead to a number of contributing factors that cause the narrowing of the spinal canal – thickening of ligament tissue, formation of excess bone, or compression/bulging of the discs.
Understanding the Symptoms of LSS
If your symptoms increase when you walk or stand, but you experience relief when you sit or bend forward, then you might have a certain type of LSS that can be treated by the removal of excess tissue which is causing a narrowing of the spinal canal.
Treating Pain Caused by LSS
If the doctor determines you have LSS caused by excess ligament, then MILD is a quick outpatient procedure, performed through a tiny incision (about the size of a penny), requiring no general anesthesia or stitches. MILD is an FDA-cleared procedure that has been performed safely on thousands of patients.
Key Benefits
MILD is an outpatient procedure performed in less than 1 hour and clinical studies show it's a safe, effective procedure that helps LSS patients stand longer & walk farther with significantly less pain. Some additional points about MILD to consider:
Minimally invasive and same day discharge

No general anesthesia required

No implants or stitches

Able to resume light activities within just a few days

Covered by most insurance