We are pleased to introduce Telemedicine
Are you frustrated with missing work in order to get to the doctor?
Do you need the flexibility of early morning or evening hours?
We are pleased to introduce a Telemedicine option for our existin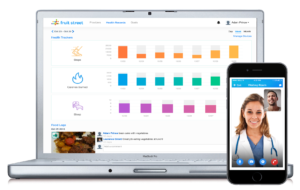 g patients!
Telemedicine allows you to visit with Dr. Edward Rubin and his team using a computer with a webcam or on a smart phone.
Dr. Rubin has collaborated with an advanced "virtual doctor's office visit" provider named Fruit Street. The Fruit Street patient portal allows healthcare providers to communicate and conduct video consultations with their patients using HIPAA compliant telehealth software.
Our telemedicine platform also provides access to a certified nutritionist to assist in your dietary needs, weight management, and to help get active again.
The Fruit Street software also integrates with the Fit bit Flex watch and Fit bit Aria scale. These devices and apps record data such as physical activity, sleep, heart rate, and dietary intake. These devices synchronize wirelessly with your telemedicine personal health record and send the data to Dr. Rubin and or our certified nutritionist in real time.
As part of the telemedicine program, Dr. Rubin is able to keep track of your healthy life choices and communicate face to face. Using the Fruit Street software you can have a virtual meeting with Dr Rubin and discuss imaging and procedure options in the comfort of your own home.
To learn more about Telemedicine, speak with Dr. Edward Rubin at your next follow up visit or email him through the patient portal on our new website at Edrubinmd.com!